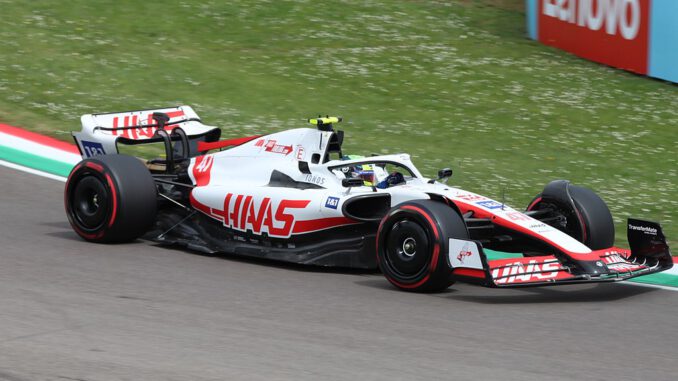 A surprising result today in Brazil, as Haas F1 driver Kevin Magnussen took pole position for tomorrows sprint race!
A sprint race weekend features one practice session of Friday, followed by a qualifying session for the sprint race on Saturday. Then Saturday the 2nd practice session and the sprint race will take part. Results of the Sprint race decide starting position for Sundays race and also the first 8 drivers get some points.
WHAT DID WE JUST DO?!?!#HaasF1 #BrazilGP pic.twitter.com/ZtJUFg3LRN

— Haas F1 Team (@HaasF1Team) November 11, 2022
Q1
On a drying track the drivers went out on inters in Q1 until halfway Pierre Gasly was the first driver to dare and use the dry soft tires. From there lap-times slowly went down. Latifi, Zhou, Bottas, Tsunoda and Haas driver Mick Schumacher were the first drivers to strand.
Q2
In Q2 the track was still getting quicker and quicker however rain was expected soon so drivers immediately went on track in order to try and do as much laps as they could. Albon, Gasly, Vettel, Ricciardo and Stroll just missing out.
Q3
with a big threat of rain coming all F1 cars were waiting at the pit exit for the red lights to turn green. Haas F1 driver Kevin was the first driver to get on track while ferrari driver Leclerc was the only driver on inters. It was a huge mistake as it was possible to drive one quick lap on the softs before the track became too wet.
And while rain was falling down, the drivers went round on track. Kevin Magnussen came round quickest while all other drivers behind him were loosing grip and all could not beat his lap.
After 2 laps Mercedes driver George Russel shot straight into the gravel getting his car stuck, It resulted in a red flag. And while the track became wetter and wetter all wat was left for the Haas F1 team was waiting 8 painstakingly long minutes until qualifying was over.
ABSOLUTE SCENES!!!!!!!! pic.twitter.com/rM3bRHONJh

— Haas F1 Team (@HaasF1Team) November 11, 2022
Smiles could be seen all over the paddock as every team was happy for the small Haas f1 team to get such a surprising result.
The moment it all became real! 😁#HaasF1 #BrazilGP pic.twitter.com/86aBs12UWH

— Haas F1 Team (@HaasF1Team) November 11, 2022
Kevin Magnussen
Kevin Magnussen could not believe what just happened and couldn't feel more happier. It was his first ever Pole position in a formula one race!
A first Pole Position for K-Mag in Formula 1 🙌#HaasF1 #BrazilGP pic.twitter.com/mAbyZb1I1D

— Haas F1 Team (@HaasF1Team) November 12, 2022
Mick Schumacher
Mick Schumacher was quite unlucky in todays qualifying. His timing was off with the switch from inters to the soft tires and just mist out by 4 tenths of a second. The car was good and he feels with a both a sprint race and a regular race coming up there is a good chance for a comeback.
A difficult Friday for Mick, as he qualified 20th but with changeable weather forecast for São Paulo, there's still a chance for a comeback this weekend 🇧🇷#HaasF1 #BrazilGP pic.twitter.com/UDMXkGAful

— Haas F1 Team (@HaasF1Team) November 12, 2022
Guenther Steiner
Haas F1 Principle Guenther Steiner had a big smile on his face as he saw his team celebrate Kevin's pole as if they just won the Championship.
The team worked very hard and today it had paid off. It was not just luck by getting Kevin Magnussen out as the first car in Q3. It was a team effort and every decision and hard work and also a great drive by Kevin led to this moment.
Today we celebrate but after that we will focus on tomorrow. As then points can be won.
Guenther celebrates #HaasF1's first pole position and thanks the team for their efforts to get us here. #BrazilGP pic.twitter.com/KRsYtUZzdi

— Haas F1 Team (@HaasF1Team) November 12, 2022
Tomorrow at 16:30 local time the Brazilian sprint race will start.