Haas F1 Team is currently the only American Formula one team racing in Formula 1. The team entered the competition in 2016 and is currently in its eight season of Formula one.
Team Logo

Founder and Chairman of Haas F1
Gene Haas is the Founder and chairman of Haas Formula one team.
Gene Haas, founder of Haas F1 Team, attributes his success in business, racing, and philanthropy to his formula of finding a challenge, creating a good, efficient, and cost-effective solution, and repeating the process.
Haas Automation, his company, is the largest CNC machine tool builder in North America. Haas started working in machine shops at an early age, and his experience led him to develop the fully-programmable 5C collet indexer, which became the industry's first device to automatically re-position parts accurately for machining.
In 1983, Haas Automation was established, and it quickly became the leader in fourth- and fifth-axis parts positioning. Today, Haas Automation is one of the largest and most modern machine tool manufacturing operations in the US.
Racing interests
Gene Haas is not only a successful businessman but also passionate about car racing. In 2002, he founded his own NASCAR Cup Series team called Haas CNC Racing, which later became Stewart-Haas Racing in partnership with two-time NASCAR Cup Series champion Tony Stewart. The team achieved its first point-paying NASCAR Cup Series victory with Stewart as driver/owner in the Pocono 500 in 2009. In 2010, the team recorded three NASCAR Cup Series wins and qualified for the playoffs, with Stewart finishing seventh and Ryan Newman finishing 15th in points.
Haas f1 team
Gene Haas, in addition to NASCAR, also ventured into Formula 1 and founded the Haas F1 Team in 2014. The team finished 8th in the constructors' standings in its inaugural season, and in 2018, it finished its best season to-date with 93 points, ranking fifth in the constructors' standings. The team operates out of a facility in Kannapolis, North Carolina, adjacent to Haas' NASCAR Cup Series team, and has a European base in Banbury, U.K. for easier access to the team's overseas suppliers and streamlined logistics for travel to European Formula 1 venues.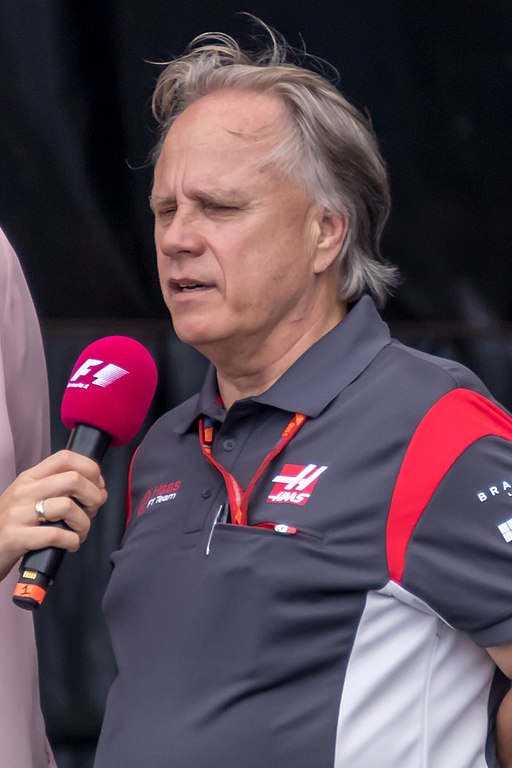 Team Principal
Guenther Steiner is the Team principal of Haas formula one team.
Guenther Steiner, the team principal of Haas F1 Team in the FIA Formula 1 World Championship, has had an illustrious career in motorsports spanning almost 30 years. Starting as a mechanic with Mazda Rally Team Europe, he then moved to Top Run Srl as an assistant team manager and Jolly Club Spa as the head of reconnaissance. He worked with Prodrive and M-Sport, where he led the team to a fourth-place finish in the Manufacturer World Championship. Steiner was later recruited to join Jaguar Racing as the managing director before he took up his current position at Haas F1 Team
Guenther Steiner became very popular as team principal when he starred in the Netflix series Drive to Survive, showing his colorful personality and blunt, no-nonsense approach to team management. He is known for his unique sense of humor and colorful language, which has made him a fan favorite.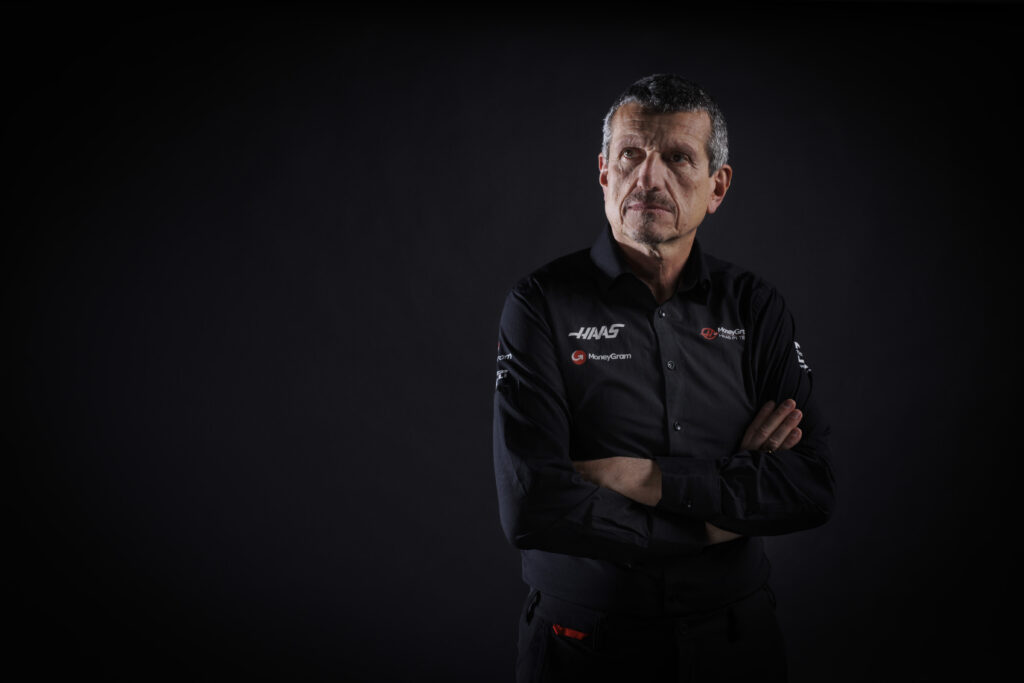 Current drivers
| Car Number | Name | Role |
| --- | --- | --- |
| 20 | Kevin Magnussen | Race Driver |
| 27 | Nico Hülkenberg | Race Driver |
| 51 | Pietro Fittipaldi | Test & Reserve driver |
Kevin Magnussen
Kevin Magnussen will remain with the MoneyGram Haas F1 team for his seventh season, having made a storybook return to the sport in 2022. Born into a racing family in 1992, Magnussen joined the American team for his third full season in Formula 1 in 2017, having previously raced for McLaren and Renault Sport.
In his first season with Haas, he scored five top-10 finishes, including a best of seventh in the Azerbaijan Grand Prix. The following year, he finished a career-best ninth in the championship, scoring 56 points from 11 top-10 finishes, and helping propel the team to fifth overall in the constructors' standings. He had a challenging 2019 and disappointing 2020 season, leading to both himself and his teammate Romain Grosjean parting ways with the team after placing ninth for a second consecutive season in the constructors' championship.
Magnussen raced for Chip Ganassi Racing in the IMSA SportsCar Championship in 2021, winning a race and securing four podium finishes, and also making a one-off IndyCar start.
On his return to Haas in 2022, he achieved an astonishing qualifying result, resulting in a P7 grid slot and a fifth-place finish in the race, ending Haas F1 Team's season-long points drought from the year before. He secured his maiden pole position in Formula 1 in Brazil later that year.
Nico Hülkenberg
German racing driver Nico Hülkenberg has joined the MoneyGram Haas F1 Team for the 2023 FIA Formula 1 World Championship. The 34-year-old will begin his 10th full-time campaign in the pinnacle of motorsport, having served as a 'super-sub' for several seasons. Hülkenberg won the German Junior Kart Championship at age 15, going on to win the German Kart Championship and the 2005 Formula BMW ADAC championship. He finished third in the EuroSeries in 2007 and won the championship in 2008 before moving to Williams as a test driver. In 2009, he joined the GP2 main series, and after winning the title, he made his Formula 1 debut with Williams in 2010. Hülkenberg also raced for Force India, Sauber, and Renault and had some good stand-in's for the Aston Martin team before joining the Haas team.
In 2015, he became the first active F1 driver to win the Le Mans 24 Hours for 24 years. In his three seasons with Renault, he achieved career-best finishes of seventh and ninth in the Drivers' Championship in 2018 and 2016, respectively. Hülkenberg's move to Haas is seen as an opportunity to secure a race seat with the only American team competing in Formula 1.
Pietro Fittipaldi
Pietro Fittipaldi, grandson of Emerson Fittipaldi, began his racing career in American stock cars and won championships in Limited Late Models and Late Models before switching to open-wheel racing in Europe. He won titles in Protyre Formula Renault Championship and Formula V8 3.5 Championship before making his debut in the IndyCar Series with Dale Coyne Racing in 2018. He returned to Formula 1 as Haas F1 Team's official test driver in 2019 and made two grand prix starts in 2020, replacing the injured Romain Grosjean. Fittipaldi continues as Haas F1 Team's official test and reserve driver in the 2023 FIA Formula 1 World Championship.
[1] image credit
VF-23 car specs
This year the Haas F1 team has named their Car VF-23 and they will drive in a mainly black-white livery with some red on their front and rear wings.
VF-23
Technical Specifications
Power unit:
Ferrari 066/10, a turbocharged 1.6 liter V-6 Hybrid
Chassis Material:
Carbon-fiber and honeycomb composite structure
Bodywork Material:
Carbon-fiber
Front & Rear Suspension:
Independent suspensionCarbon-fiber
Dampers:
ZF Sachs / Öhlins
Steering:
Ferrari
Transmission:
Ferrari servo-controlled hydraulic limited-slip differential with semi-automatic
sequential and electronically-controlled gearbox, quick shift (eight gears, plus
reverse)
Clutch:
AP Racing
Brake System:
Carbon-fiber disc brakes, pads and six-piston calipers
Cockpit Instrumentation:
Ferrari
Seatbelts:
Sabelt
Steering Wheel:
Ferrari
Driver's Seat:
Carbon-fiber construction, molded to driver's contours
Wheels:
BBS
Tires:
Pirelli P ZERO
Fuel Cell:
ATL
Fuel / Lubricants Provider:
Shell
Overall Width:
2,000 mm
Weight:
798 kg (including driver)
Historical Results Haas F1
| Season | Team name | Chassis name | Engine | points | championship position |
| --- | --- | --- | --- | --- | --- |
| 2016 | Haas-Ferrari | VF-16 | Ferrari 061 | 29 | 8th |
| 2017 | Haas-Ferrari | VF-17 | Ferrari 062 | 47 | 8th |
| 2018 | Haas-Ferrari | VF-18 | Ferrari 063 | 93 | 5th |
| 2019 | Haas-Ferrari | VF-19 | Ferrari 064 | 28 | 9th |
| 2020 | Haas-Ferrari | VF-20 | Ferrari 065 | 3 | 9th |
| 2021 | Haas-Ferrari | VF-21 | Ferrari 066/7 | 0 | 10th |
| 2022 | Haas-Ferrari | VF-22 | Ferrari 066/7 | 37 | 8th |
[1] photo taken by haasf1team.com
[2] Steve from Austin, TX, USA, CC BY-SA 2.0, via Wikimedia Commons