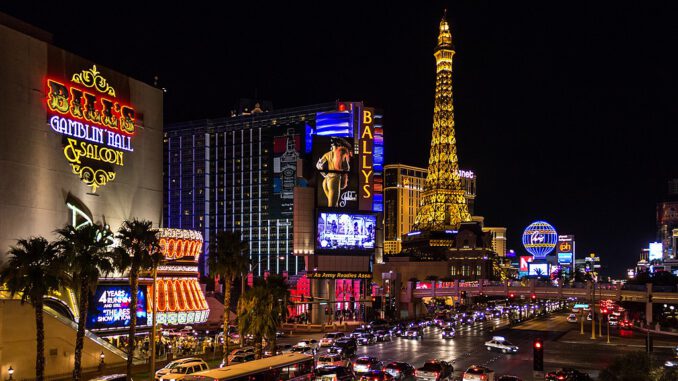 The date of the Las Vegas Grand Prix has been revealed. It will take place in the weekend of 16 – 18 November, on the Night from saturday to Sunday, and will be the second las race of the 2023 season.
Just one week later the final grand prix of the season: Abu Dhabi Grand Prix will take place.
[1] image credit
History of the Las vegas grand prix
The Las vegas Grand Prix was held two times before: in 1981 and 1982. Back then it was called Caesars Palace Grand Prix. The 1981 race was won by Alan Jones and in 1982 Michele Alboreto. The Venue didn't have the allure which the 2023 grand prix likely will have as in the 80's a circuit was built on the parking lot of the Caesars Palace. The drivers did not liked the circuit nor the desert heat. Due to poor attendance the event was a financial deception and after just 2 years it was removed from the F1 calender.
[2] image credit
2023 Las vegas circuit layout
The Las Vegas grand prix is planned for 2023. the Circuit is 6.12km and will have 50 Laps. The circuit has 14 corners and one long straight which will make the formula 1 race cars drive with speeds of over 300km/h over Las vegas Boulevard, also known as the strip. They will drive pass by all the famous hotels and Casinos: The Mirage, Caesars Palace, the Belagio.
Land buying
For a long time it was thought a Race in Las Vegas was not feasible because there was no room to place the paddock and pit for currentday Formula 1 teams.
But recently this has changed: Liberty Media, the owners of Formula 1 franchise is said to have bought a plot of land in Vegas of 240 Million USD to build facilities such as start/finish and pit and paddock facilities.
Will Las Vegas grand prix be a succes?
Liberty Media finances and organises the grand prix by itself in the contrary to most races which are organised by third parties however they are not worried. They have enough capital to bear the risk. And also note that intend to use the facilities not just for the race but will be used year round.
With interest in Formula one increasing in the united states in the recent years. next year there will be a total of three USA grand prix.
More plans about the las vegas grand prix will be revealed by formula 1 in the near future. For the latest info check also www.f1lasvegasgrandprix.com the official website of this event.
[1]
Dietmar Rabich
/
Wikimedia Commons
/ / [2]
No machine-readable author provided. Palle~commonswiki assumed (based on copyright claims).
, Public domain, via Wikimedia Commons [3]
DarthKrilasar2, GabrielStella
,
CC BY-SA 4.0
, via Wikimedia Commons