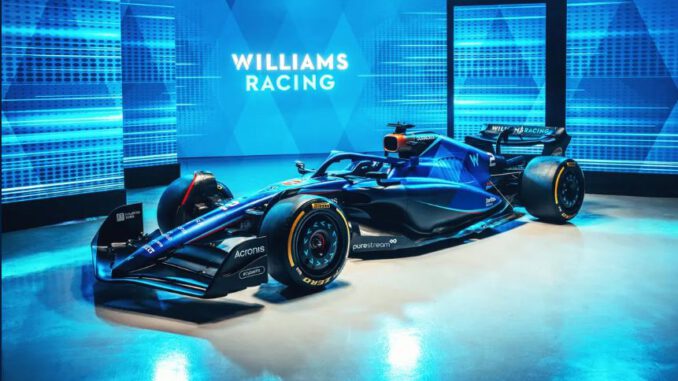 Today Williams F1 has revealed the FW45, their new 2023 season car. The car got a cool matt blue finish and several new sponsorships were announced! Most notable is their new partnership with Gulf Oil International which previous year were still partnered with McLaren F1.
Ready for the journey. Introducing the FW45 💙#WeAreWilliams

— Williams Racing (@WilliamsRacing) February 6, 2023
Also Williams has chosen to show the new livery on the old FW44 car so we have to wait for testing to see the FW45 in action.
James Vowles
Williams racing has a new Team Principal, as James Vowles comes over from the Mercedes F1 team and takes over this role from Jost Capito.
James is very experienced in Formula one, working already as race engineer at BAR and was there when Brawn GP won the championship in 2009 and stayed when Mercedes took over that team. Overall he has won 9 constructors championships. He is motivated and ready to take the team to the next step.
Alexander Albon
Experienced driver Alexander Albon is about to race his 2nd season for the Williams f1 Team. Last year he his return in F1 after a one year break. Last year Alex had 3 point scoring finishes, scoring 4 points total and ended up 19th in the driver championship.
Albon told since a young boy he always dreamt to be an F1 driver and is happy to be racing another year for Williams and earned his spot on the grid. He feels the new car looks faster, it will not be easy but he feels if they can find a couple more tenths they can be closer to the midfield.
"It's more about us two trying to fight more up towards the midfield, working together and seeing what we can do."
Logan Sargeant
For American driver Logan Sargeant it will be an exiting first season in Formula 1. After finishing 4th in his debut season in Formula 2, winning 2 races, the 22 year old Williams academy driver is promoted to the Formula 1 team in 2023. He will be the first American driver to race in F1 since Alexander Rossi.
Logan told his path to F1 wasn't always easy, having to move to Europe to pursue his racing career at a young age. But he expressed: "I had a good team around me to remind me that this sacrifice now, you'll gain later."
Talking with the drivers Logan stated he did not have time to be nervous yet as they were so busy with preparing for the season, however it will probably come when the first race will grow near.
A huge welcome to the team, @GulfOilIntl! 🤝🤩#WeAreWilliams #GulfXWilliams pic.twitter.com/KVthAn3b5L

— Williams Racing (@WilliamsRacing) February 6, 2023
This season F1 will have 3 races in America: Austin, Miami and Las Vegas! We certainly hope the car is quick cannot wait to see Logan Sargeant make his debut in Formula 1 and racing for a home crowd in the States.