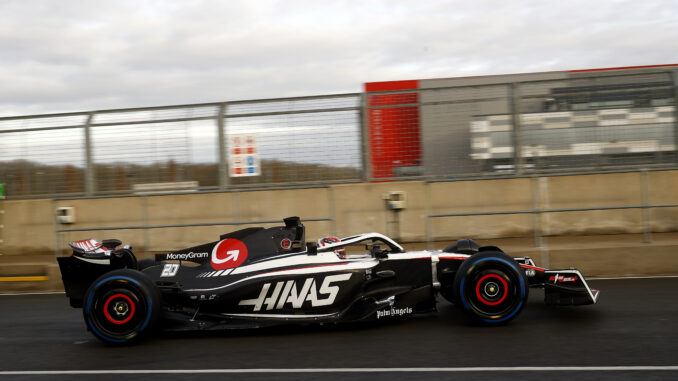 Today the MoneyGram Haas F1 team had its VF-23 car shakedown at the Silverstone circuit in England. With only 19 days left to the first race of the season in Bahrein the Haas F1 team used a film day at the Silverstone circuit to give their 2023 car a shakedown before heading to Bahrein for the pre-season tests. It is the first time we see the actual car on track and it looks amazing!
The wait is over! The #VF23 is on track for the first time 🙌#HaasF1 pic.twitter.com/btFfYp4RuY

— MoneyGram Haas F1 Team (@HaasF1Team) February 11, 2023
Simone Resta, the Technical Director of the Haas F1 team discusses their ambitions for the 2023 season.
He stated: "After a hard 2021, 2022 was really a great comeback and it gave a massive boost to everyone working on the car – both at the factory and those at track. We're building on that momentum this season and try to make another step" .
Concept work on the VF-23 started just after the first races of last season, he told as soon they can learn from the 2022 car performance they will start on the new model with some aerodynamic development and initial concept work. As the season progresses more and more resources are put into the 2023 car.
Regarding updates he expects to have a stronger program of upgrades compared to last year however it is very early to say exactly what the plan will be.
Regard their ambitions for 2023 he says: "For me, our objective is always to maximize our performance in every condition, on every track, with both drivers. How that will materialize into a final result, I'm not sure. It would be great to see a podium or a race win, we always have to aim high and let's see what we can get in 2023."
Getting ready for pre-season test Bahrein
Today's private shakedown is used to perform some early system tests in order have the car properly ready to make lots of mileage at the pre-season test. And of course it is used to shoot some video and other media related stuff for the team. It is the first time the drivers drive the actual car and they can already give some early feedback about the feel of the car and how it will drive.