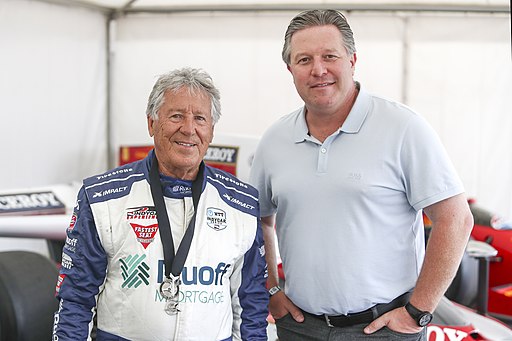 Former F1 world champion Mario Andretti drove a Mclaren F1 car during the 2022 Velocity Invitational at Laguna Seca. For the 82 year old Mario it was an amazing experience. He drove the McLaren MP4/28 , a car driven by Jenson Button and Sergio Perez which brought the team 5th place in the formula 1 championship of 2013.
Mario actually had never driven for Mclaren in F1, he drove for Ferarri and won the title in a Lotus but when Mario told McLaren Boss Zak Brown he would love to drive a modern F1 car Zak was happy to help out and give him the opportunity.
image credit [1]
Mclaren CEO Zak Brown was happy and proud to see former world champions Mario Andretti and Mika Hakkinen as well as Patricio O'ward driving in the Mclarens.
The boss, @ZBrownCEO, with a few familiar faces at @VelocityInv this weekend! 🙌🤩@F1MikaHakkinen is driving the MP4/2, @MarioAndretti is driving the MP4/28 and @PatricioOWard is in the MP4/5. Have fun, team! 👍 pic.twitter.com/e5ByZclCqH

— McLaren (@McLarenF1) October 16, 2022
Another suprise for Mario Andretti
Another suprise awaited Mario andretti as ahead of the United states grand prix, COTA renamed its final corner to "The Andretti" in honour of Mario Andretti and his success.
The corner is a tight leftside corner, previously called big red which is followed by the main-straigth.
A big honour for Mario Andretti and the Andretti racing family.
[1] United Autosports, CC BY-SA 2.0, via Wikimedia Commons