Today was the second day of pre-season testing at the Bahrein circuit. Most teams got the first day done without to much problems. Today the first low fuel, qualifying runs are expected to be done. We follow both the Haas drivers as well as American driver Logan Sargeant who will also do a full day of testing today.
Morning session
This time Kevin Magnussen started the morning session with some sessions focusing on three important areas: Aero testing, mechanical balance and high fuel runs. He totaled 67 laps in the morning before he handed over the wheel to Nico.
Kevin felt good but said it was also hard to predict where the team currently stands :"We need to do more work to understand the car better and today we got into a different area, trying things we didn't yesterday, so we're learning. There have been very few problems and we're now getting into more performance related testing which is nice and more interesting for us"
Best time: 1:33.442 (p11)
total laps: 67
mileage: 362km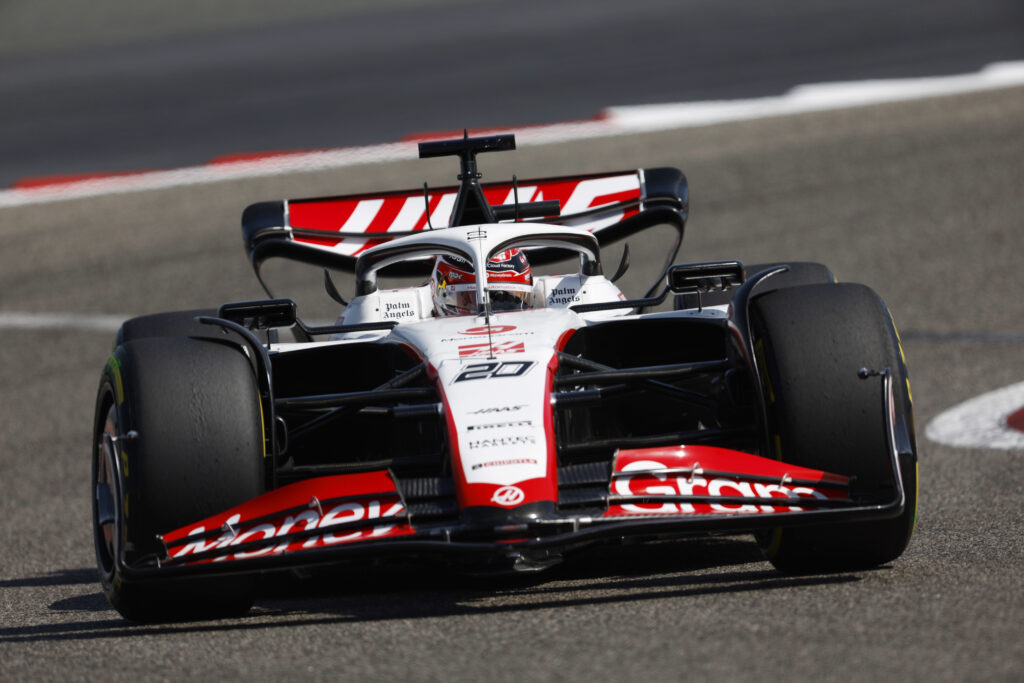 Afternoon session
Nico Hulkenberg had a busy afternoon but they got a lot of things done: "Today was a positive day – it was a good […] I feel and a lot of interesting data collected as well."
At the end of the afternoon he had some time for some quick laps too ending 5th on the timetable but he told that going quick was not important for him today: "Also for myself I'm building more of a connection with the car and trying it in different conditions, as you do in testing. I don't think a qualifying run is the number one priority for me – I've done enough and I know what's coming – "
Best time: 1:32.446 (p5)
total laps: 68
mileage: 368km
Guenther Steiner
In an interview with Formula1.com Haas team principal Guenther Steiner praised the 2022 rules as he could notice the teams getting closer commenting: "I think the new regulations are working"[and] I think the teams are getting closer together in the midfield."
Therefore according to Guenther it was also hard to predict where the Haas team will be this year: "I cannot [say for] any of the seven teams behind the three big ones who is in front and who is not. Hopefully one day all 10 teams will be close together and we are sitting here debating who will win the next race."
Logan Sargeant
American driver Logan Sargeant did the most laps of all the drivers today with a total of 154 laps. He had a full day of testing the car by himself before Alexander Albon takes the wheel tomorrow. The Williams car looks good this year. Last years they seemed to have quite some troublesome testing days but this year testing goes smoothly which results in happy faces in the garage.
Today was about getting experience with the car and some of situations. At the end of the morning there was a simulated virtual safetycar / red flag / and re-start. Furthermore Logan did a race simulation in the morning while in the afternoon he had time to do some quick laps in. On the C5 tire he was 2nd on the timetable for quite sometime before late afternoon other drivers were quicker. He ended up 7th today.
Timetables and live coverage of testing
Zhuo Guanyu was leading the timetable surprisingly at the end of the day followed by Max Verstappen in the Red bull and again Fernando Alonso. There were several unexpected drivers in the top 10 but after having a closer look we saw some drivers put their fastest lap on the c5 tire. This is the quickest Tire compound, however it will not be used in next weekend grand prix weekend. Haas drivers looked strong and finished in the midfield: 5th and 11th.
The classification of day two of testing can be found here.
Are you interested in watching the live coverage of the test days? Then I would recommend an F1TV subscription. With F1tv you can watch live coverage of the full F1 season, including testing and races. Also you can find some documentaries and archived races.
Come back tomorrow for more news about the last day of testing before we start the season!